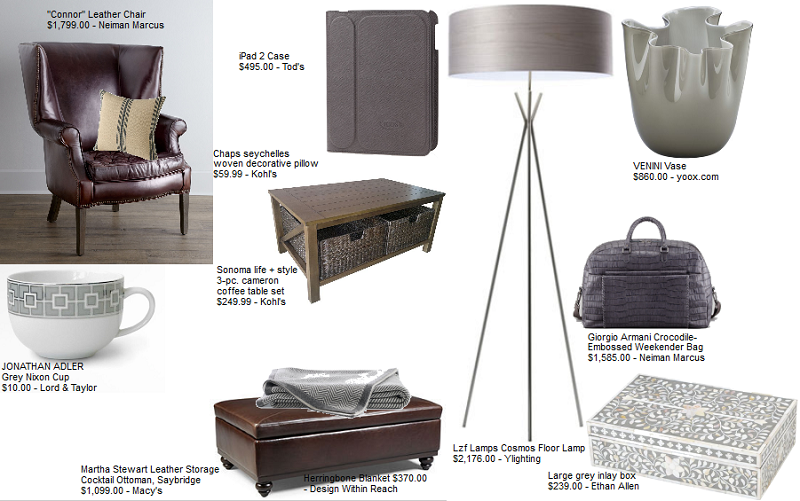 It's the long Martin Luther King Jr weekend and inaugural weekend as well! For many, there will be no work on Monday so it's a great time to not only think about freedom in general and how far we have come but also getting some work done whether it's setting up your business, prepping for NYFW, catching some shows, and more. I am a multi-tasker in all that I do and I do a lot of work from the comfort of a number of chairs and couches while I have my shows (E!, Bravo, WE, Style and more in the background). It's so important that your workspace whether you work from home or in an office, you need to have a zen space as we work hard but should do so comfortably. As you know, I'm a huge fan of grey and like to bring it into my wardrobe as well in to my decor.
It's all about the chair, I love a great leather one that I can work upright in as well as to curl up in and this one available at Neiman Marcus is perfect. This retailer has a number of other great finds including this Giorgio Armani weekender in embossed croco. I love that it's such a fabulous traveling companion that it's perfect to accessorize your space with this great piece which ensures you're always ready to travel.
Pop in some color with this fun Chaps Seychelles pillow from Kohl's which has a nice worn look to it. Kohl's also has a coffee table from Sonoma Life + Style with storage baskets which is perfect in the home office. For additional storage which also serves as an ottoman, is from Martha Stewart. Continue popping in other grey elements with a cashmere throw from Design Within Reach which has a fab herringbone pattern. Curl up under this lamp from Ylighting with your tablet that is inside this Tod's iPad case. While sitting in my zen space, I enjoy drinking a lot of tea and having it with this Jonathan Adler cup is a perfect way to plug through your day. Finally, it's about the smaller details such as a vase form Venini which is perfect for your arrangements as well as this box which is great for odds and ends (I put my jewelry in them as I think it's essential to have a jewelry box to put your items in in every room) from Ethan Allen.