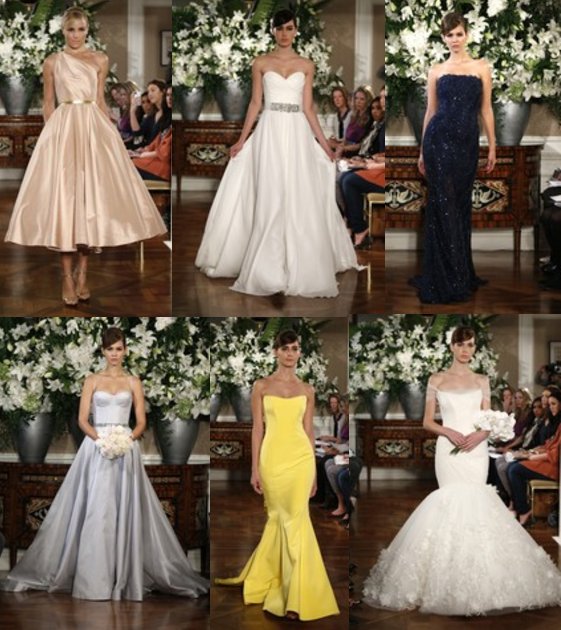 Right before NYFW, my sister got engaged to her fiance which gave me something amaing to add to my plate that never ends up being empty - Maid of Honor and Wedding Planner. As you know, any life event that I take on, comes here to Kitten Lounge. Prior to NYFW, Fridays contained content geared towards brides and now that Fashion Month is over, I'm pleased to share that Wed Wednesdays is dedicated to this exciting time. With an upcoming Oct wedding (next year of course), I was glad that Bridal Week took place over these past few days so that I could understand what my sister was interested in and allowed us to bond with our mom as well!
For me, no wedding search could start without going to Romona Keveza which not only does bridal but evening gowns. Above is a round up of my favorite looks that hit the runway at the St Regis Hotel over the weekend on Saturday! I have to say that we were able to enjoy seeing her affordable line - Legends, The Romona Keveza Collection and then the evening wear line. I love that there was a segment that was an ode to 007 - James Bond. Above there are dresses that I am obsessed with, such as the champagne/blush hue which is perfect for an engagement dinner, engagement party, etc. I also love (on the lower left hand corner) this ice blue (although it looked grey to me) dress. This gave me the idea that I definitely would want a wedding gown in this hue as I love grey. Of course our purpose was to see body styles that my sister liked - how could I not love the dress on the lower right which is definitely up her alley!
I can't wait to take you on our journey as official planning beging Nov 1st - come back for tips and definitely ask questions. For those who are interested in finding out how one goes about planning a wedding as well as how one goes about her duties of Maid of Honor - this is also a fab resource for you too!