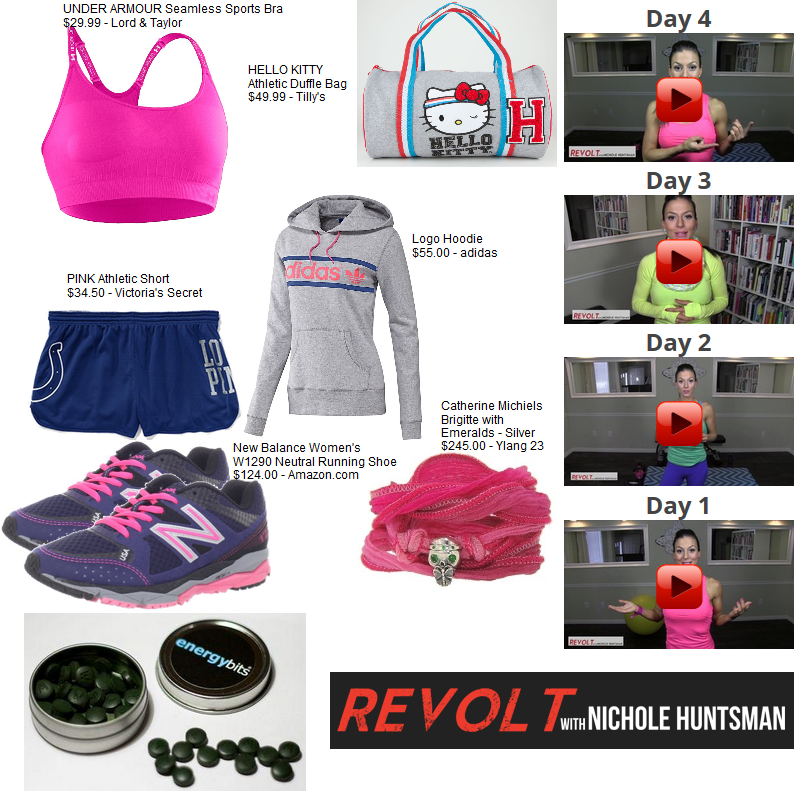 As you read this, I just completed Day 5 of my 12 week Revolt Now Fitness with Nichole Huntsman. She's like having a personal trainer that you can do from your phone (I did that earlier this week as it was a crazy day), tablet (check) and your laptop! More on this in a few paragraphs. As you know, I'm always working out and I'm a huge believer in looking amazing when you're doing it. I am that girl who will still wear makeup, super cute outfits and more as I never think there is a reason to look less than your best. This week, I have been rocking some cute looks and wanted to share a few of my fave key pieces for the next time your hitting the workout routines!
I always rock a bit of pink when I work out, some workouts are intense and a bright hue can make you push through that wall! This pink sports bra by Under Armour is a great way to keep you cool and you can layer a fun tank on top of it if you feel like you don't want to show that much skin. I love pairing this within my Victoria's Secret Pink Colts shorts (although I've lived in NYC for over 10 years, I'm from Indiana originally and this is my fave football team) which is perfect for when you're hitting the gym super hard. When I'm not doing yoga and am doing super cardio, it's all about wearing the right shoes and I love these navy and pink New Balance sneakers. There are times I head to the gym and come home but I still have quite a few things that I take with me so this super cute Hello Kitty duffle is definitely about the business of working out. Since the weather is still chilly here, it's all about the hoodie and I do love a little retro love - so this is Adidas one is the perfect look wherever you're going! Complete the look with a fab accessory that won't get in the way - Catherine Michiels is definitely a great piece. I find that when you're hitting the gym or whatever your workout is (and yes these can be used on a daily basis even when not working out), ENERGYbits can be swallowed with liquid (it's not a pill though) or chewed and is made of 100% algae. It boosts your energy, balances your blood sugar and is also a meal replacement - just to name a few things that it does which can help you.
Now this time of year is crazy, it's post the holiday season, the spring/summer is coming up, I start booking a lot of work and like any woman in this time of year, you want to prep the body to look amazing. So I have been doing a number of workouts and one of them includes Nichole Huntsman's Revolt Now Fitness. I love that she has videos that range between 21 - 40 minutes which allows you to work out, learn why these exercises are beneficial to building muscle and she creates a very conversational tone. In this challenge, if you work out as well as eat the menu that she has set out, you're bound to see significant results within 6 - 12 weeks. I have to say that even after doing it for the past 4 days with her instructed day off, beyond feeling sore, I feel the results beginning which is such a win! I love that for under $10 a month, you have access to her videos and whether you're doing it at home, on the road, etc it's worth making the commitment to yourself. I can tell you that there are times that I double up her workouts or I also go into a number of other routines that I love to do!