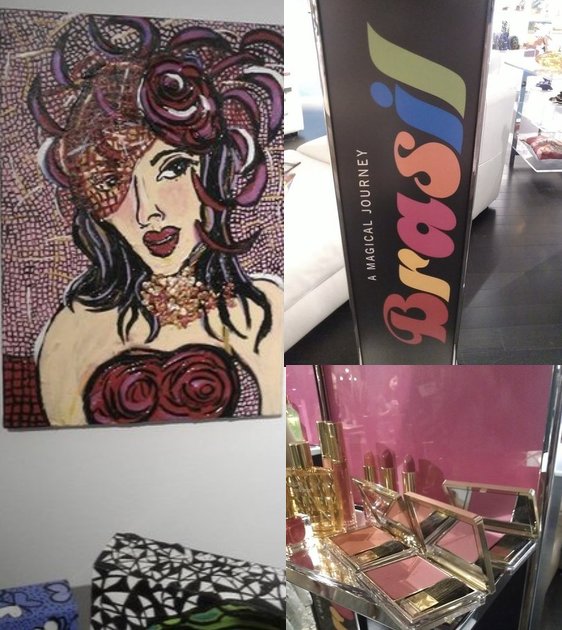 This morning I headed to Macy's - Brasil A Magical Journey. As many of you know, I am a member of Beauty, Brains and Blogs Network which was created by the Publishers of Cosmopolitan Magazine (loved seeing fellow BBB'ers Shyema of Beauty and the Feast as well as Kristan of Serafino Says and Celebrity Hair Stylist) - but we were here to learn more about Macy's Brasil initiative that is available in 300 stores through July 15th as well as the launch of Cosmopolitan For Latinas which has Zoe Saldano on the cover.
Many of the brands were a number of our faves such as Estee Lauder who created a highly pigmented collection that worked well together. I love that you can take the blush and also use it as eyeshadow as well as mixing it with their gloss to create a dynamic pout! Linda Levy, VP of Marketing of Cosmetics and Fragrances also explained that they also brought in a number of designers that were based in Brasil as in terms of tourists, Brazilians constitute a number of their shoppers and being able to have their favorites in stores would be a great relationship as well as introduction to those that are not familiar.
As an Accessories Expert, I encourage you to visit their shop in store as well as online as I am sure the same care in curation within the beauty categories will also be seen in this area as well as apparel! I also love that they had a number of paintings from Brazilian designers available to purchase! If you're in Herald Square, head to the 9th floor! Leaving with a number of fabulous goodies including a vibrant color blocked tote, Estee Lauder, Shiseido, Dior and more - it's a great way to get summer fresh as well as to bring in the essence of Brasil! I will definitely be taking these along with me for my upcoming appearance on HSN next Friday and to have my makeup artist use some of my new finds!