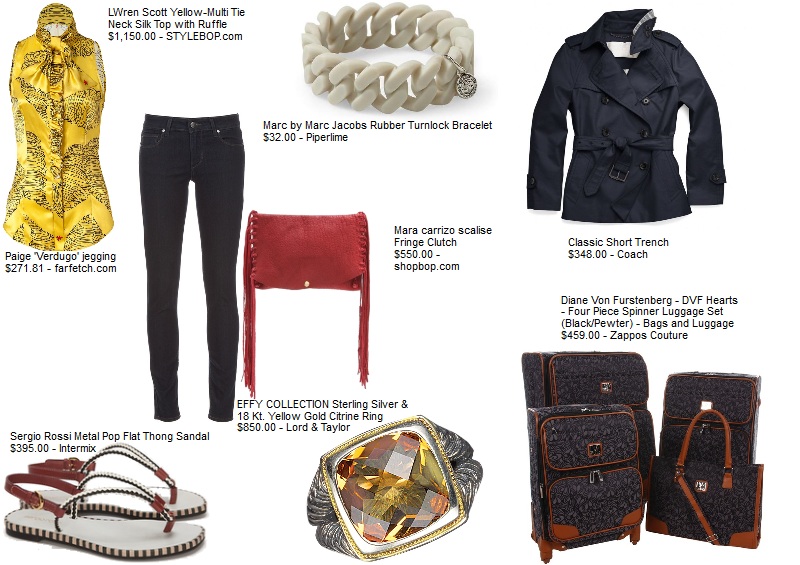 On a rainy day like today, I'm always asked what one should wear when traveling to a warmer climate when you need to hit the road running. I love keeping it light and easy and of course it's about pops of color for your accessories! I love playing with primary colors as it's a classic look!
THE LOOK
This look is easy whether it's in the spring/summer and the weather might be a bit rainy or you're looking for a way to head to the airport! I believe that everyone needs a great trench coat and should have a navy as well as a khaki one. In addition, a long one as well as a short one is an essential as well. Building out great outerwear in this category is an essential and is a great way to infuse color! This Coach (I definitely want to rock the one in pink) trench is definitely the perfect item to have in your closet. Pair this with L'Wren Scott who always has great ruffle tops that are classics as well as fun prints. This yellow one has a great pattern and one that works well with this Paige jegging.
ACCESSORIZE THE LOOK
Running through the airport doesn't mean you need to slack on style nor does it mean that it needs to be cumbersome when you hit TSA and have your items scanned! I love Marc by Marc Jacobs Turnlock Rubber bracelet which is a great way to show off this look. Effy Collection Citrine ring is perfect to bring this yellow hue back into the outfit and is a great cocktail ring that is always one of my signatures when I'm out and about. Although I am a heel girl, I'm also very much so into flip flops (usually Havaianas and sandals! These sandals from Sergio Rossi are perfect and can be worn casually as well as dressed up - I'm absolutely in love and know that I must pick up a pair for my spring/summer! The red with the navy and white stripes is absolute perfection and seems to scream warm weather. Pop red back in with this fringed clutch (yes if I am traveling for a meeting and am heading from the airport and straight to the conference room, I will have it in hand. This clutch by Mara Carrizo Scalise has an elegant rich and worn leather that just completes the look. Finally it's all about the luggage and although I tend to travel light (even when I appear on HSN for 3 segments) with a weekender, I like knowing I have options whether I need to bring more OR I want to change it up a bit. Nothing is better than Diane Von Furstenberg's collection which combines form and function together!