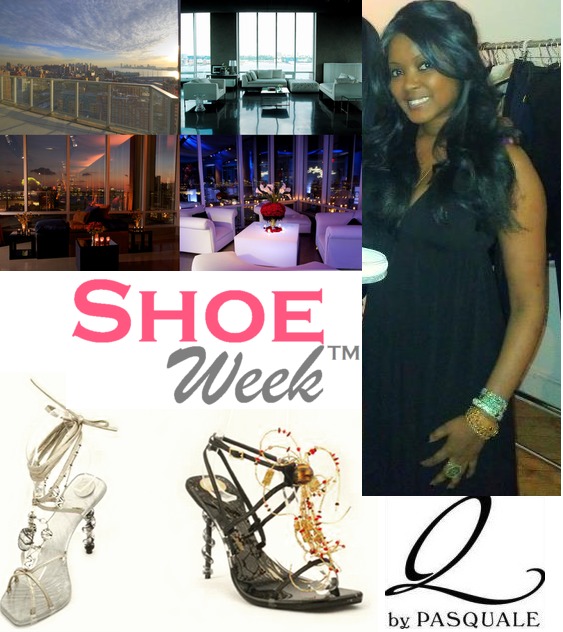 As many of you know, as an Accessories Expert, you'll find me in a number of projects whether it's styling people during Essence Music Festival on behalf of Crest earlier this month, being in a Palladium Jewelry campaign in Cosmopolitan Magazine or being on HSN on behalf of Sebago (I'm back on again Aug 16th at 7am and 3pm) talking footwear style and showcasing my Kimmie Smith x Sebago Spring 12 collection. I love operating within the world of accessories whether I'm a spokesperson, working with lines or educating people. It has taken me around the world and it's a continual process in understanding the vitality of the industry!
I am very excited to be the Co-Founder and Creative Director of Shoe Week which is a shoe focused series of events that will take place during NYFW SS2013 (Sept 6th - Sept 13th). Attendees will enjoy watching a variety of runway shows, presentations, exhibitions, media lounge, Handbag and Shoe Lounge, cocktail events, parties and more that focus on luxury shoes and related accessories as a means to place this category and its designers front and center. Although our events will be throughout the week and at a number of venues, I love that one of our locations will be at the Glass Houses on Sept 9th as we have a number of venues within our schedule. In conjunction with my Co-Founder and CEO, Paul Farkas we were pleased to see this week's Huffington Post Style article and have enjoyed interacting within the industry to put on an amazing experience during Fashion Week as well as to continue with our ongoing mission!
Of course, my Kittens will be looped in so each Saturday leading up to these events, you'll get to know a little more about Shoe Week and our phenomenal partners! I am so thrilled to have Q by Pasquale as one of our participants. Pasquale comes from a shoemaking heritage where his family's craftsmanship with "made to measure" shoes could be seen on Carey Grant, Frank Sinatra and Lucille Ball. Today Pasquale continues this heritage with placing his skills on such stars as Will Smith, Angelina Jolie and Charlize Theron. Having them included within our Shoe Runway show as one of a number premium heels is a great way to extend the vision of Shoe Week!
Next week, find out more about Shoe Week and my Co-Founder, Paul Farkas.