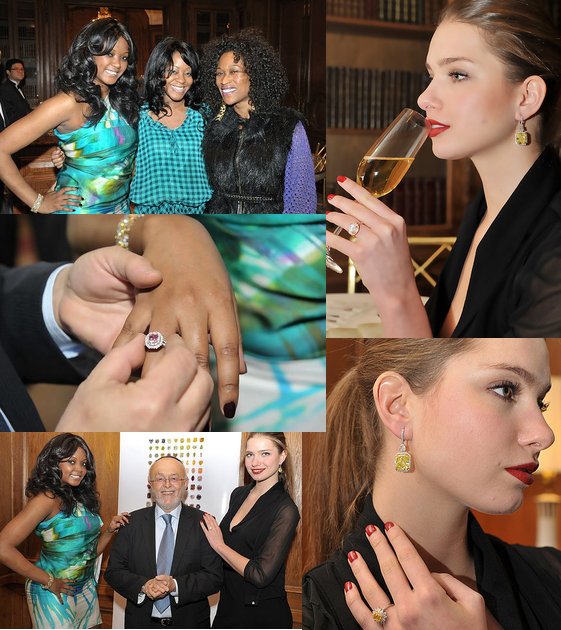 Ah Kittens, we kicked off New Years Day talking about the Pink Prosperity Diamond which is phenomenal and decadent (more on that later); moreover, they are a family run business whose pieces are only available online! This diamond is one of many that is available at Leibish & Co! Valued at $1.6 Million, this is a piece that you will definitely remember seeing and if you have the opportunity to wear it, you won't want to put it down! With my love for all things glitzy and fab, when I was requested for a fun event - there was no way that I could say no! So after gathering fab influencers that should definitely find out more about fab pieces and picking out the perfect Theia Couture dress from their Spring 12 collection, I was very excited to host this event!
As an Accessories Expert, I have appeared on a number of segments, weighed in on articles and I always know the perfect item to complete a look. So when Leibish & Co asked me to come to the St Regis Hotel last Thursday to present their fabulous diamonds and World of Colors Fancy Diamond Chart, my schedule opened up immediately. In attendance was Leibish Polnauer, president of this company. For the past 30 years he has not only offered phenomenal diamonds from a number of price ranges but he just released a colored diagram that showcases the number of hues that diamonds can come in from various white, yellow, reds and more! This comes to over 250+ colors! Above, you can see a number of images from Leibish and I, their gorgeous model who rocked a number of phenom pieces - pieces that were actually owned by an amazing couple who attended sharing their story and how diamonds are an investment for them as they spent over $1 Million.
I loved being able to take attendees through a walk through of the diamonds offered and introducing people to those who have purchased Leibish & Co diamonds over the years. Being able to wear the Pink Prosperity Diamond was definitely something amazing and wearing a fabulous Yellow Diamond bracelet that was 54 carats and $160,000 was phenomenal - it was sad to take them off at the end of the night! Of course, at every event, it's a way for me to chat with friends and my sister (she is on my right above). See more about the event and those that popped by visiting, Leibish & Co's page! All images above are courtesy of Paul Schneck.