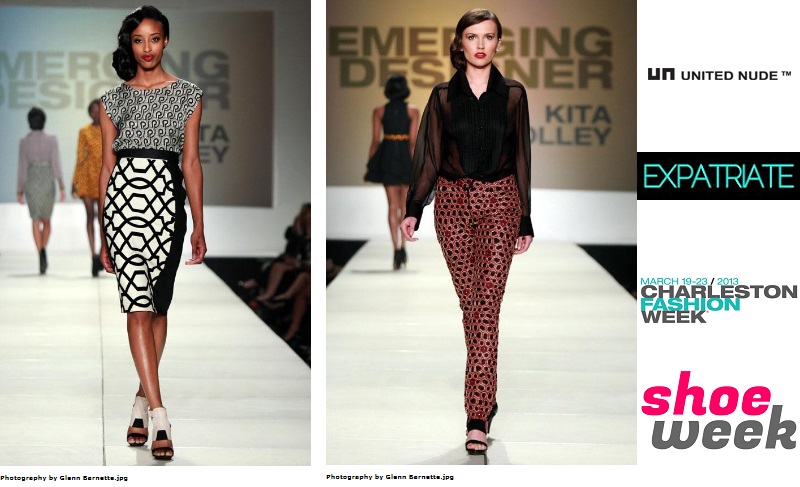 Last week, I headed to Charleston Fashion Week as my client, EXPATRIATE, reached out for me to style the footwear that would be included within her show. Of course, this was exciting as it was a great way to include Shoe Week within her runway show experience. I completed her look with United Nude which is known for their architectural style. Above you can catch two of my favorite looks from the collection (see more looks from her show with images by Glenn Bernette). In addition, to purchasing these fab heels online, for those who where in Charleston that were asking, you can find them at Harleston Shoes (check them out on Pinterest as well as on their Facebook page).
Charleston Fashion Week is a show that has taken place over the past seasons that not only shows established designers but emerging designers as well. It was amazing to hear that EXPATRIATE's designer and founder, Kita Nolley, received a lot of praise from Fern Mallis herself about the fabrication and the construction of her line. As runway shows are always chaotic and since it was such a quick trip, I had a little Q&A with Kita, an Atlanta based designer that takes everyone on a number of destinations with her collection.
When and why did you decide to create EXPATRIATE?
I decided to create EXPATRIATE when I was in grad school at Savannah College of Art & Design. I always knew that I wanted to have my own line, but I was never sure how far I could take it. It wasn't until after I spent some time working in London for British fashion house, Zoe Jordan, that I knew for sure I had the necessary skill set to grow my own business. That was my first realistic taste of what it takes to run a successful luxury label. I learned a lot about operations and the business end of fashion and I loved it.
How do you begin designing your line (do you do a storyboard, do you do inspiration trips etc)?
Honestly, it's different every time. Usually, I'm inspired by something I learned or saw while traveling. Other times I'm inspired by art, something that I read, or even a certain fabric that I came across. From that initial inspiration, I create a mood board. The process of creating the mood board usually helps me clarify my vision. I usually start creating rough sketches after I've created a mood board and am clear on the direction.
Why are you excited to be part of Charleston Fashion Week and how do you think it will benefit you by participating within this event?
I'm excited to be part of Charleston Fashion Week for tons of reasons, but mostly because it's the perfect launching pad for new designers. The event gets a tremendous amount of media coverage and is a gathering place for fashion industry professionals. Not only am I gaining invaluable experience in creating runway shows, but I'm also getting a chance to rub elbows with industry insiders and tastemakers.
Where would you love to see EXPATRIATE sold?
I would love to see the line in major department store like Saks or Harrods one day. I'm a huge fan of the boutique shopping experience, so right now we're focusing on getting the line in fashion forward, well-curated boutiques – both stateside and international.
What fashion icons would you like to see wearing EXPATRIATE?
I'd like to see ALL fashion icons wearing EXPATRIATE :-) The clothing is made to fit a wide range of body-types beautifully. Of course, seeing one of my garments on celebrity or fashion icon would be phenomenal…but to see everyday women in EXPATRIATE would be a dream come true.
What does EXPATRIATE offer within its line that is different than other lines that are currently out there?
The sleek, dressy separates are designed to mix and match. I strive to provide a woman with bold signature pieces that she can easily incorporate into her wardrobe. The garments are designed to mix well together without one piece overwhelming the other. However, each garment can stand alone as a signature piece when paired with items from outside of the collection. EXPATRIATE's unique mixture of bold patterns and classic tailoring provides polished, easy-to-wear clothes for the modern woman.
Will EXPATRIATE take on additional categories such as accessories, shoes, handbags etc?
Expanding into additional categories is definitely a major goal for the line. I definitely have plans to expand into handbags and menswear in the near future. Shoes and other accessories are long-term goals.
Where can we expect to see EXPATRIATE next in terms of shows, tradeshows, etc?
We're working on our next runway show for the Spring/Summer 2014 collection. I've received an exciting invitation to possibly show on an international runway in September, but it's still very early in the discussion. We're also planning to show the SS14 collection in Atlanta in September or early October.
On your Kickstarter site, we saw images of a doll wearing your EXPATRIATE Tuxedo - which we love, do you create a miniature for each item in your line?
The doll was an interesting exercise that I plan to incorporate into my design process going forward. One of my professors suggested I do this exercise to help visualize the collection. The purpose was to see a signature look from the collection in to use as a tool when explain my vision for the collection to others. It worked so well, that I think I'll always create the signature look for the doll first. It really helps you see the silhouette and catch any design flaws early in the process. It's a fantastic brainstorming tool, and it's much more efficient (in terms of time and money) than mocking-up the garments in full scale.
How have you grown from your Fall 13 collection (which the bow tie is so cute and I love the menswear influence that comes into portions of the line from this collection making me think of Katherine Hepburn) versus what you have designed for Spring 14?
Since the FW13 collection was the inaugural collection for EXPATRIATE, it was extremely important to me to create a collection that was a true representation of who I am as a designer and a person. The collection reflects and honors my cultural heritage: African and American. It also gives a big nod to my love for menswear and classic tailoring.
Spring '14 will also feature tailored looks, but it will be lighter, more romantic, a little less structured and slightly more feminine. I'm still in the discovery process for the Spring collection, but I know I want it to have a more delicate touch.
What else would you like to share about EXPATRIATE and where can the line be purchased?
We're in the process of sampling two different factories. It's very important that we partner with the right manufacturer for the line. Though this is a time consuming process, I am confident that the end result will be a high quality product that has the right fit, finishing, and details. For now, sales inquiries can be made via our website or by contacting sales@expatriateclothing.com.
What can we expect from Spring 14 from you and as your line does focus on destinations, what area will you transport us to next?
Close your eyes and imagine you're standing in the middle of an energetic street market. Your senses are excited by the delicious smells, sounds, and the electricity in the air. You open your eyes and you see beautiful people, vivid colors, and amazing architecture. You've journeyed to Morocco. The Spring/Summer 2014 collection is called "Destination: Marrakech."