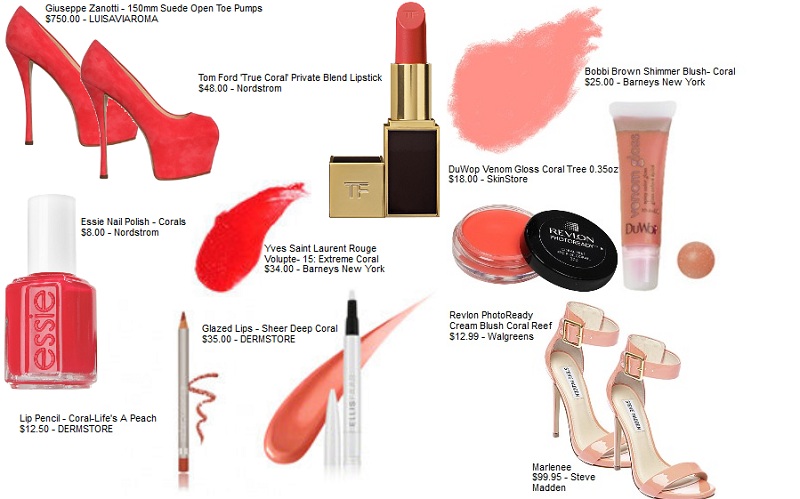 A great color in your favorite accessory is also a nod towards a hue that could work with you in your makeup routine! With the Oscars taking place this weekend, there are bound to be a number of beauty looks that will be great takeaways. We'll be tweeting the looks of the runway on Sunday starting at 1:30pm EST and would love for you to share what you're looking forward to seeing, what you think will be trending or what you thought should have been added!
ACCESSORIES INSPIRATION
Personally, I'm loving Coral! This hue has quite a range as it can be a bold vibrant color as you would find in this Giuseppe Zanotti heels which is a vibrant pink with a slight red element in it all the way down to a hue that has more of a dust rose/dust blush in a toned down version of coral like these Steve Madden heels which are perfect to accent your fab pedi and ankles!
GET THE BEAUTY LOOK
With such a wide range and so many options (I don't even want to tell you how many lipglosses, shadows and blushes I have within this range of hues), there are a number of ways to bring this look into your face to warm up your skin and to create the sunkissed look that I love wearing when I am on TV segments or that you see your fave celebs rocking. With the nail polishes, if you're going to go coral it has to be bold and although Essie has a number of polishes within this hue that are just slightly different from one another but still having major impact, this one in Geranium is a fave without a doubt! This is perfect for the days of being out and about, hitting the beach and just a fun color in general.
The lips are an essential when I'm on air as I love to do a lip cocktail (mixing a number of shades together to get the perfect pout). Within lipglosses, I'm loving Glazed Lips in Sheer Deep Coral and I love the subtle nature of DuWop's Venom Gloss Coral Tree. For the ultimate in lip color, Yves Saint Laurent has the perfect stain in Extreme Coral. For a shade that's in the middle of vibrant and subtle hues, Tom Ford's True Coral is a great option as well. Line your lips or fill it in as a layer with Colorescience's lip pencil in Coral Life's a Peach.
It's all about the cheeks and having those amazing cheek bones with great blush. For subtle style mavens I suggest Bobbi Brown's Coral blush which has a bit of shimmer. For those who wish to go bolder, I suggest Revlon's Photo Ready Cream Blush in Coral Reef. As a side note, I use a number of corals on my cheeks so those with mid to darker skin tones shouldn't be afraid to have blush that fits in the dark pink to berry tones. In many cases, I actually mix is in with a bronze hued bronzer to tone it down so you have the hint of pink or coral hue coming out which makes your skin look illuminated!