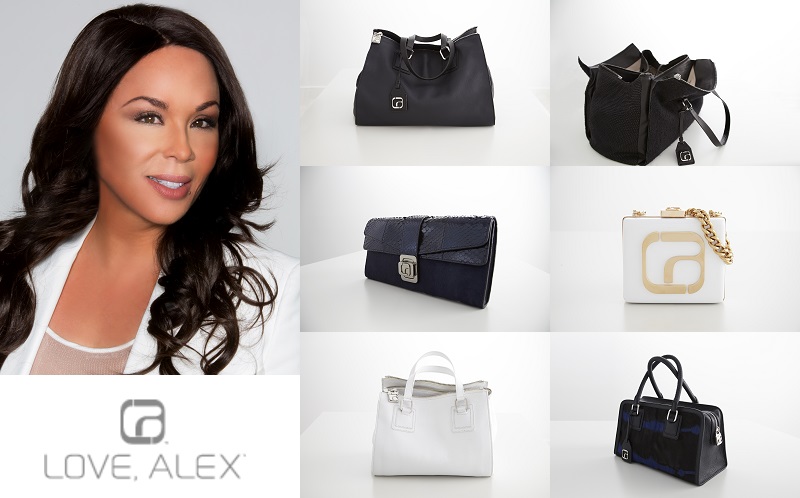 A few days ago, I shared the Spring collection of an amazing luxury line called Love, Alex! I loved everything about the bags, learning about its design and more and had to find out more. You can read my initial thoughts and introduction to this line by checking out my previous post (also check out items from the current Spring/Summer 13 collection); however, today, I am including an interview I did with Alex Clancy the designer and founder of this fabulous line! Find out about how she creates the line, the focus on charity and what we can expect for Spring 14! You can also check out some of the pieces that I'm loving for Fall 13 which will hit shelves a few months from now!
How did you come about creating Love, Alex?
Love, Alex was born out of my belief that there's room in the luxury landscape for a company with altruism at its heart. By building on the theme of love, we've created a brand that enables luxury consumers to share their good fortune with the world. Since inception, Love, Alex has made significant contributions to DonorsChoose.org – a philanthropic organization that supports children's education nationally, and we plan to continue to donate proceeds of sales to DonorsChoose.org as we grow.
How do you begin designing your line?
Art and sculpture are always starting points for design inspiration. Travel is also important as it opens the mind.
Philanthropy is a huge element within your line. Share with our readers how you give back and your charities' focus.
The transformative power of love is at the heart of our charitable mission. We've partnered with DonorsChoose.org because we believe education is the greatest accessory of all.
Where is Love, Alex currently selling?
* LoveAlex.com
Current stores selling the spring 2013 collection:
* B. Barnett, Little Rock, AK
* Frances Heffernan, Winnetka, IL
* Elements, Chicago, IL
* Rafaels, San Francisco, CA
* Lulu Brandt, Pasadena, CA
What fashion icons are wearing your bags and who would you like to see wearing them?
I would love to see Tilda Swinton carry a Love, Alex bag. She is the epitome of understated elegance and classic modernity. Iman and Sandra Bullock are two other beautiful women who I think would appreciate the designs and mission of Love, Alex.
Beyond fashion icons, there is something for everyone at Love, Alex. The highly functional bags come in many shapes, sizes and colors… each one is timeless.
Your line is luxury at its best, beside python, do you see integrating other premium materials within your line for future seasons?
In addition to Python, we use Alligator, Ostrich and Lizard. All leathers are premium quality and produced in Italy.
Will Love, Alex take on additional categories such as accessories, shoes, handbags etc.?
Yes, we plan to expand into other accessory categories including wraps, hats, small leather goods, and jewelry… anything that has the power to transform a look.
How has your family played a role in the creation of this line and the focus on philanthropy?
I am blessed to have a loving and supportive family. My sister, Lisa Llewellyn is a creative genius and a wonderful sounding board. She celebrates all creative endeavors and always finds something of value, even in a bad idea.
Each of your bags have unique names, how did you come about naming them?
Love, Alex bags are named after trees around the world as trees have so many positive meanings and images…the tree of life, children climbing trees, books are made from trees (education is our key charitable focus), trees create the air we breathe. Each bag name is carefully chosen out of love.
I've seen your Spring collection and just viewed you fall collection, what can we expect for Spring 14 - any hints?
For Spring we are continuing to explore volume and layering of materials and color. Hardware is inspired by modern monumental sculpture by the likes of Richard Serra.
What can we expect from Spring 14 from you and as your line focuses on destinations, what area will you transport us to next?
Our spring 2014 collection will continue to feature refined mixing of materials and colors while layering bold colors such as chartreuse and cobalt into our classic palette of white and pale nudes.
What else should we know about Love, Alex?
I've spent every summer of my life collecting beautiful shells on the beach in Martha's Vineyard. The creamy mother of pearl patinas and pale iridescent shades are the inspiration for the core color palette of the Love, Alex line.