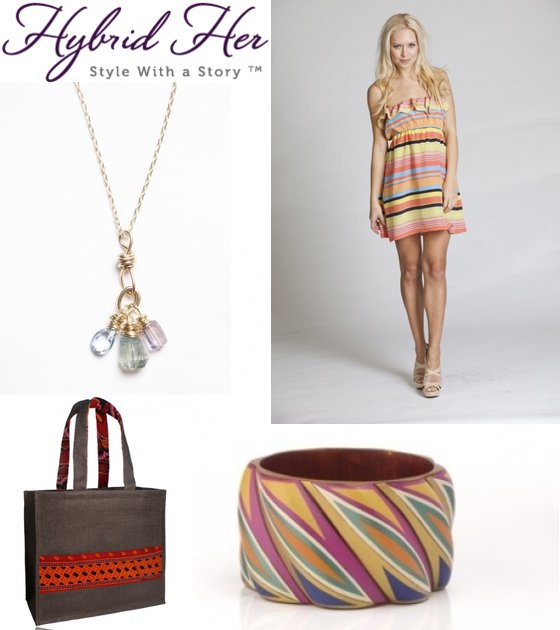 Today's Sponsored Post is something that Kitten Lounge is all about without a doubt! What is Hybrid Her? It's all about sharing stylish fashion that supports independent designers as well as filling your closets with fabulous finds. But beyond this, these designers support causes that are important to them. At the end of the day, they're all about fashion, profit and good karma which is always great to hear! With all this good will available at Hybrid Her, this boutique is all about Mavens. Mavens are independent entrepreneurs who choose whatever items they want at deeply discounted rates from designers that are within the Hybrid Her ecosystem. I love that there are goods from all over the world and that Mavens are able to have a shop as unique as themselves. Having a space that you can sell items and drive traffic to gives you autonomy and allows you to learn the business and to curate what you love! With a team to guide you, you're able to set your rates and when it's time to enjoy the efforts of your work, 20% goes to Hybrid Her, the wholesale price goes to the designer and you receive the difference from both of those!
The pieces above are a number of items that are available at Hybrid Her - as an Accessories Expert, I love the depth of items that can fill your closets and when it comes to finding fun dresses for your total lifestyle - you'll definitely have a place to go to to support your fashion fix, assist independents as well as to support causes as that is also something that we believe in here on Kitten Lounge as well!
I definitely suggest checking out Hybrid Her as a shopper and as a Maven who rocks her own store! You can also check out their overall community as well on Twitter @Hybrid_Her as well as on their Facebook as well as on their Pinterest page. In an age where you're seeking to embrace opportunities to focus your efforts in the ways that you wish, Hybrid Her is a great concept! If you're not quite ready to be a Maven or you know a designer who would be interested in finding out how they can obtain a new series of eyes to covet their pieces - definitely let them know. Of course, if you feel your best efforts reside in purchasing then check out this site!