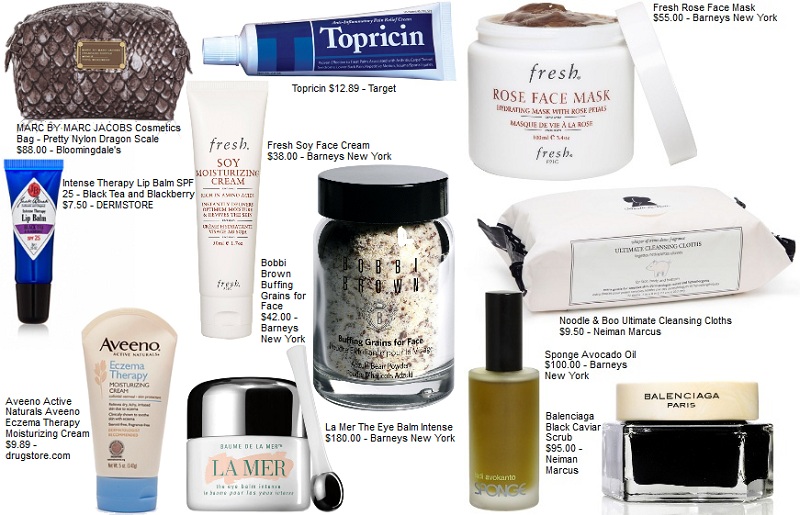 We know our Midwest friends have been dealing with the snowstorm and here in NYC, we have to remind ourselves that crystal blue skies and fabulous sunny days don't mean it's warm when it's in Feb! With that said, this bitter cold hasn't stopped me from still looking like I have been frolicking in the Miami sun (and I haven't been in ages and yet I'm still rocking sun kissed skin). It's all about me finding a skin routine that works for me which is adjusted based on weather, stresses I may be under, etc. My basic routine is very get up and go friendly but with weather like this, I need to give some extra love to my skin so that means while I drink more water, I lather on a lot more moisturizer to maintain that soft fresh skin! Those who know me know that I have a million cosmetic cases, one that allows me to travel on the go if I'm called and have less that 3 hours to pack and get to the airport, I have a winter kit and a spring kit. This means that my winter kit is my must have essentials for this season and I want to ensure that my skin looks great. My Marc by Marc Jacobs bag ensures that not only are they in this dragon scale nylon case but that everything I need is there.
For those that may suffer from skin that's flaky or extremely ashy, Topricin is a great moisturizer. It also doubles as a great pain reliever. Sometimes when you've been outside for long periods, you find that your skin may feel tight and achy so this is great to deal with both issues. Moving on to skincare for your face there are a number of items that I am obsessed with! If you've been in my beauty closet, you know that makeup wipes are my not so secret guilty pleasure. I have wipes that include cocoa butter, dead sea salt, etc - the options are astounding and only a few are on my short list of what I wouldn't use. These Noodle & Boo wipes are cute. If I'm lazy I wash my face off with this or I start with this, use my clarisonic and use another to wipe off whatever residue that may be left behind. They're refreshing and they are a must in any beauty kit no matter the season. For those that have sensitive skin and worry about cloths being too astringent for their skin, I do suggest using products that are geared towards babies/children as if it's perfect for their sensitive skin, you don't have to be concerned for yours!
Once you're skin is clean, an exfoliant is a must. I do this about 2 - 3 times a week in the winter as I want to keep my skin soft and ensure that irritants are not on my skin. I have some faves that are definitely great options. Fresh Rose Face Mask will keep your skin looking vibrant as well as I love the use of rose in a number of my beauty options. Make it decadent by using caviar with Balenciaga's scrub - caviar has been known for its amazing properties when it comes into contact with your skin and is perfect for a spa day. If I have had a super busy week where I had to do segments, shoots or appearances with a number of days in a row, I do like to clean my face with something a little more abrasive. Bobbi Brown's Buffing Grains for Face can be used with your fave cleanser or water in order to create that spa like exfoliating experience.
When you're done cleaning your skin, you need a great moisturizer, I tend to go with items that are infused with milk, sake or soy. Once again, Fresh is to the rescue with their Soy moisturizing cream which is another way to put much needed nutrients in it. Every morning for breakfast, you can find me eating hard boiled eggs, sliced avocados (both sprinkled with sea salt) and Pom Juice - I'm not someone who really likes the first meal of the day but I do love these items! Why? Because these items make my skin look great and they add a lot of nutrients. Sponge has an Avocado Oil that is great for the face. When I don't plan on going out for the day or it's at the end of the night I do like using this as it keeps the skin smooth. Another moisturizer that I suggest especially for those that have sensitive skin (note that I don't have sensitive skin; however, I feel that once again using these items are still great for your skin), use Aveeno's Eczema Active Naturals which contains oatmeal which is great for skin.
For me, the winter is all about protecting my skin the area under your eyes is thin and for me, when I'm outside in the cold, the weather makes me over tear and the water can actually attack that area! In college, I noticed that when I didn't treat this area (along with walking around without sunglasses in the weather) I would have aggravated skin that not only got slightly darker but would get a bit scaly - not cute! La Mer has a great Eye Balm Intense that I use on my face and I must say that when I'm home, I always add a little more to ensure that the area stays smooth and flake free! Another thin area involves the lips! This area without moisture gets tight and cracked - not cute! I'm obsessed with Jack Black which is known for its men's line but I love their balms which are great for men and women. My favorite is Black Tea - I love the scent, the coverage and that it has SPF (remember that even in the winter, you still need to continue having sun care within your routine regardless of the season, weather and your skin tone - it's a must for all)!