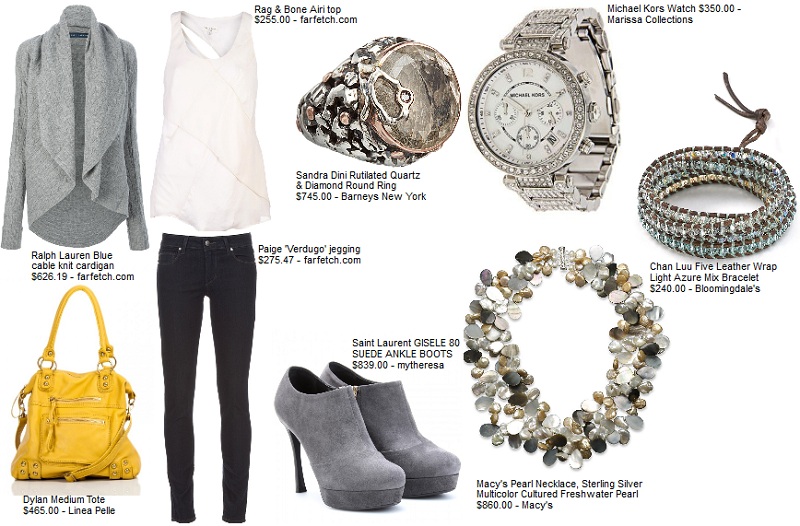 This winter season can be a challenge from surprisingly warm days to down right chilling to the bone temperatures! How do you dress for something like this? It's all about layers and great pops of color. I love a neutral palette and believe in mixing white, black and grey together. The versatility of this look allows you to go all over and throughout your day without wondering if you're appropriately dressed no matter the impromptu situation.
I love a great pair of skinny jeans and this pair from Paige Denim and add a fab white tank that can be dressed up and down by Rag and Bone is a fab look. Complete the look with a great rolled cardigan in grey from Ralph Lauren Blue Label. A fab pair of ankle boots add a nice touch to the look by Saint Laurent.
Of course, I'm all about accessorizing and love adding in fab embellishments to jazz up this look. All of these pieces have notes of silver, Mother of Pearl and quartz. Although I'm not a watch person, I do like this Michael Kors timepiece. Layer on a Chan Luu bracelet that adds in another subtle hue. I love this Mother of Pearl necklace which has a great depth of texture as a way to bring in an old world charm as well as being very modern. Finally, I love this quartz and diamond ring by Sandra Dini.
Finally, it's all about the bag - with this winter season that will soon transition into Spring, you have to have a pop of color and you know that I'm a huge fan of Linea Pelle as I love their rich leather, fab embellishments and amazing colors. This Dylan Medium Tote is a lovely yellow and I have been carrying this body style in the fall. I love that you can fit so much in here (many times I have my laptop in my bag and all of my tech goodies)! So kicking off today, you have the chance to win this fabulous bag and a winner will be announced on Feb 7th (the first day of NYFW) so that you can begin building your closet on the way to great style!
Win this great bag by visiting Linea Pelle and making sure that you sign up for their newsletter. Next follow and tweet @KittenLounge and @LineaPelle telling us what fabulous color you are looking forward to adding into your wardrobe this season and include the hashtag #LPKLSpring2013. A winner will randomly be selected!
Our win it has ended, congrats to @Objets for winning a fab tote from @LineaPelle!