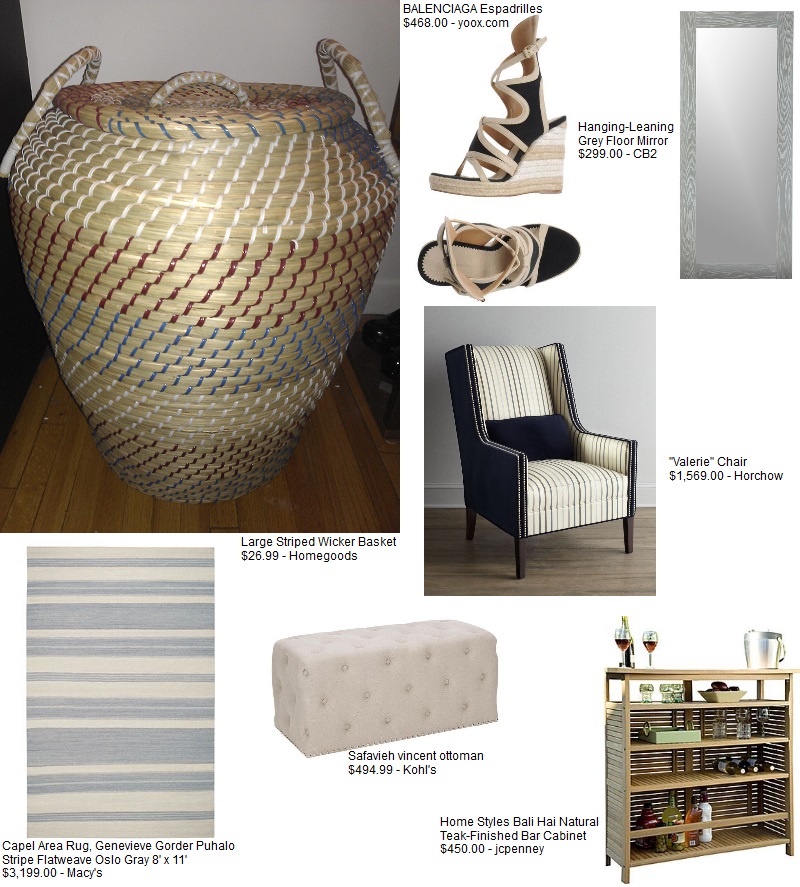 It's been shoetastic in my world as a number of items have found there way into my closet. With so many, I have been outfitting my office with them as when I'm not wearing them, they become art that everyone can enjoy when they're here. When I like a color, texture etc I find a way to bring it into my living and work space so that I can shake things up a bit. Although there has been a lot of inspiration, I love certain elements that scream Spring/Summer which works well for the current season and can be warmed up during the fall and winter to create a light look when the skies are grey.
SHOE INSPIRATION
When it comes to my handbags, Balenciaga is never far from my thoughts - the City Bags in a number of colors, how can I possibly be expected to choose? But they also have phenomenal footwear as well. I'm loving these Espadrilles that combine navy, white and beige. I love the striped effect which creates a classic preppy feel that's super crisp. This particular style makes me think of nautical, wicker and more which is perfect for an office and allows me to work on deadline, organize samples, get my outfits ready for segments and more.
GET THE DECOR
These shoes made me immediately realize that I needed to have a touch of nautical in my room and I'm in dire need of massive storage. I headed over to Homegoods and found that they had a number of massive baskets and I love that there is a lid. This basket is completely filled with beauty product which is great as when people come over, they can take a few goodies over with them! A leaning mirror allows it to lean on the wall so that I can see my look before I pop out (or you can take a few selfies) - white wash is definitely my style as it's crisp and I'm a huge fan of CB2. Every office needs fabulous chairs and your office should also be a great place to do a photoshoot whenever needed and this chair adds structure to the image and of course if from one of my fave places, Horchow.
When it comes to accents, anchor the room with a fab rug such as this grey and white one which is a bit beach and very casual and is available at Macy's. Prop your legs up on this tufted ottoman or put your favorite style books on it to accessorize your room. Finally, I'm a huge believer that every office should have beverages so that you can instantly congratulate yourself for great deals that you closed, segments that were booked or to toast to the weekend. This Bali teak bar cabinet is perfect to sit within your office and easily accessible.